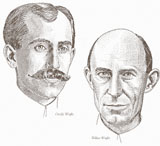 The purpose of the U.S. Centennial of Flight Commission was to promote awareness of the Wright brothers' achievements and the 100th anniversary of powered flight. One way for the Commission to do this is through this Web site.

Generally, the information contained on the Web site is in the public domain, and permission for its use is not required as long as the Commission is acknowledged as the source of the information. However, there are certain materials on our Web site, such as photographs, images, narratives, movies, Web casts, etc., that have source information provided for them. If there is source information provided for these materials, permission for their use should be obtained from their providers.
The Centennial of Flight Commission, having fulfilled their charter, was disbanded in April 2004. As part of their charter, the Centennial of Flight Web site was passed to NASA, with the NASA History Office as the primary organization designated to support it. The NASA History Office continued to make the Centennial of Flight Web site available until September 2012, at which time budget constraints precluded them from making mandatory upgrades to the site and servers. The site was taken down and no longer available.
The American Aviation Historical Society (AAHS), a 501.3.c non-profit educational organization, recognizing the importance of the content, has taken the initiative, at our own expense, to update and maintain the original content of the site so that aviation enthusiasts, researchers and educators can still access the content that had been assembled by the Commission. As part of the maintenance process, access to the Calendar and Links are temporarily suspended until they can be updated. The AAHS will continue to make the original content available, updating and correcting the content as appropriate.
If you have questions or comments about the information contained on this Web site, please contact our Web Curator.

If you have other questions or are experiencing problems with this Web site, please contact our Technical Advisor.