Propeller Configurations
Aircraft have had two types of propeller configurations: pusher propellers and tractor propellers.
Aircraft with pusher propellers place the propeller assembly behind the engine. The thrust produced by the propeller pushes the airplane forward. Most of the Wrights' planes used this type of configuration. The U.S. Army banned this type of propeller configuration in late 1914 after several pilots died in crashes of planes of this type.


The Vultee XP-54 is an example of an aircraft with a pusher propeller.
Notice that the propeller is located behind the fuselage.
Credits - U.S Air Force
The concept was revived briefly during World War II when the Army Air Corps received designs for a pusher-type aircraft as part of a design competition. In these planes, the propeller was mounted behind the pilot. They appeared to offer better visibility, less drag, and the opportunity to carry more guns in the nose. Three such pusher designs were actually flight tested—the Vultee XP-re, Curtiss XP-5, and Northrop XP-56. None went into production.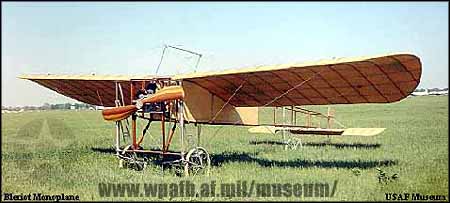 The Blériot monoplane was an early aircraft with a tractor propeller

Tractor aircraft have the engine and propeller at the front of the aircraft where the thrust draws or pulls the airplane. Modern aircraft use this type of configuration.