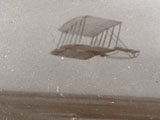 On Dec. 17, 1903, at 10:35 a.m., two brothers driven by tenacity, creativity and courage completed the world's first successful powered, heavier-than-air flight at Kill Devil Hills, N.C. for a 12-second, 120-foot journey. A new industry was born and a new way of life followed closely behind. The Wright brothers accomplished what people had only imagined since the beginning of time.
The national "Centennial of Flight: Born of Dreams - Inspired by Freedom" celebration commemorates this achievement and 100 years of aviation history. Our Centennial Partners are planning everything from cross-country tours to air shows and exhibitions, seminars and television specials. Use our Web site to access the most up-to-date information on celebration activity as well as the most comprehensive collection of outstanding educational essays, multimedia and links regarding the history of flight.
2004
By December 17, 2003, the Centennial of Flight Commision had fulfilled its charter with the creation of this Web site and a large number of celebration activities held in conjunction with the Centennial Partners. As part of the Commission's charter, there were provisions for certian material to be preserved. In April 2004, with the closing of the Commission, responsibilty for the Centennial of Flight Web site was formally passed to NASA and the NASA History Office. From that time, until September 2012, the NASA History Office continued to make the Web site publicly available. Due to budget constraints and aging servers, the NASA History Office was required to take down the Centennial of Flight Web site [-- originally online at "centennialofflight.GOV" -- ] .
2013
Recognizing the valuable educational content in the site and in keeping with its educational charter, the American Aviation Historical Society (AAHS) made the decision to take the necessary steps to assure that the content of the Centennial of Flight Web site would continue to be available to enthusiasts, educators and researchers. While providing access to the original content, the AAHS is committed to maintaining the Web site as well. While original content will be maintained "as is," the AAHS may need to modify and/or enhance navigation, or provide links to supplemental information not covered by the original effort. When these changes are visible to site visitors, they will be color coded in the same style as found here, with the modifications being shown in this color. Certain areas of the site are unavailable at this time (Calendar and Links).

AAHS Centennial of Flight Project
May 2013